Managing People Properly Is the Key to a Project's Success
By Dan Picard
Senior Editor/Manager, Quality Improvement Programs at MindEdge Learning
One of the most important, and most complex, tasks for any team leader or project manager is effectively managing the people assigned to the project. Experienced project leaders know that successful projects are not the culmination of elaborate procedures, complicated tools, or elaborate techniques; they succeed because the people involved are integrated, organized, and empowered, which then frees them to put their skills to use in the most effective way possible.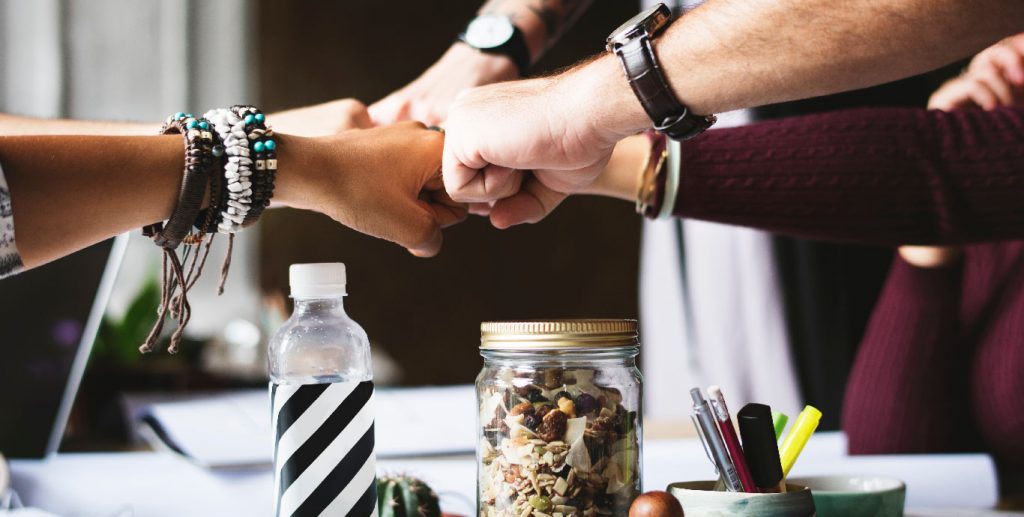 As a project leader, you quickly learn that your role in managing resources depends on four factors: using the right resources in the right way at the right time in the right environment. Finding the correct resources, capitalizing on their strengths, prioritizing their use, and providing a favorable environment for them to work in will unleash their ability to affect all goals and objectives positively.
The Right Resources
In today's project environments, having the right resources means that your resources must meet the project's needs and objectives – but they must also support the organization's strategic goals. They need to know how their achievements relate to and sustain company plans and initiatives, as well as how those achievements align with "the bigger picture." And they need to be selected because their core strengths are truly necessary for the work at hand – not simply because they represent the traditional departments or functions that would "normally" be enlisted on a project team. As the project lead, it will fall to you to guarantee that the people you select can fulfill these obligations clearly and accurately.
The Right Way
To ensure that you are successfully deploying the resources you have, you will need to have intimate knowledge of each resource's skill level and the skill levels needed to complete your project. You may want to think in terms of a "skills register" (that describes each resource's ability to complete needed work) that you can match to a "skills inventory list" (that documents the skills you'll need to meet your objectives). Connecting items from these two points of view will guarantee that project needs will be met with the best resources available.
The Right Time
Determining the right time forces you to consider factors both inside and outside of your project's boundaries – i.e., to focus on optimal resource use from an organizational perspective, not just a project perspective. As organizations work to "do more with less," resource scheduling and prioritization have become more critical than ever. But by understanding the interactions and dependencies among all projects in the organization, you can better navigate and negotiate for the resources you'll need without creating conflicts or bottlenecks.
The Right Environment
Lastly, you'll need to create an environment suited to your resources: one that allows them not only to execute as needed, but to grow and thrive at the same time. In many instances (especially those that run in hybrid Agile/Waterfall methodologies), this may require that you act as an information resource or adviser to help team members adapt and operate in new and unfamiliar circumstances. Or you may need to adopt technologies that will allow your teams–especially your virtual teams–to continue to collaborate and interact as needed, without interference or interruptions.
Remaining Vigilant
Underlying these suggestions is the understanding that as a project manager or team leader, you must keep a watchful eye not only on your own resource management, but also on resource use in other parts of your organization. Your ability to be attentive and alert, and to select, prioritize, and utilize your resources effectively, could well be the difference between exceptional achievement and inadequate results.
For a complete listing of MindEdge's course offerings on project management, click here.
---
Copyright © 2018 MindEdge, Inc.
By Frank Connolly
Director of Communications and Research, MindEdge Learning
In the wake of a data breach that exposed the personal information of up to 87 million Facebook users, public opinion appears to be turning against the social media giant. MindEdge Learning's recent national survey of college students and recent graduates found that a clear majority (54 percent) blame Facebook—rather than Cambridge Analytica and other firms that allegedly misused the data—for the security failure.
MindEdge's second annual State of Critical Thinking Survey probed the attitudes of 1002 young people, aged 18 to 30, on a wide range of education-related issues. It was conducted in early April, with all but 17 interviews completed before Facebook CEO Mark Zuckerberg's highly publicized Congressional testimony.
While most of the questionnaire probed attitudes relating to critical thinking, fake news, and work preparedness, the survey included one question that addressed the data-breach issue:
There has been a lot of discussion lately about the alleged misuse of personal data from millions of online Facebook accounts. From what you've heard or read, which of the following do you feel is MOST to blame for this problem:
54 percent say "Facebook, for not protecting the personal information in the first place."
29 percent say "the analytics firms that allegedly misused the personal information."
Another 12 percent are not sure where to lay blame.
4 percent volunteer some other response, including: No one; Users/consumers; Politicians; and Both Facebook and the analytics firms.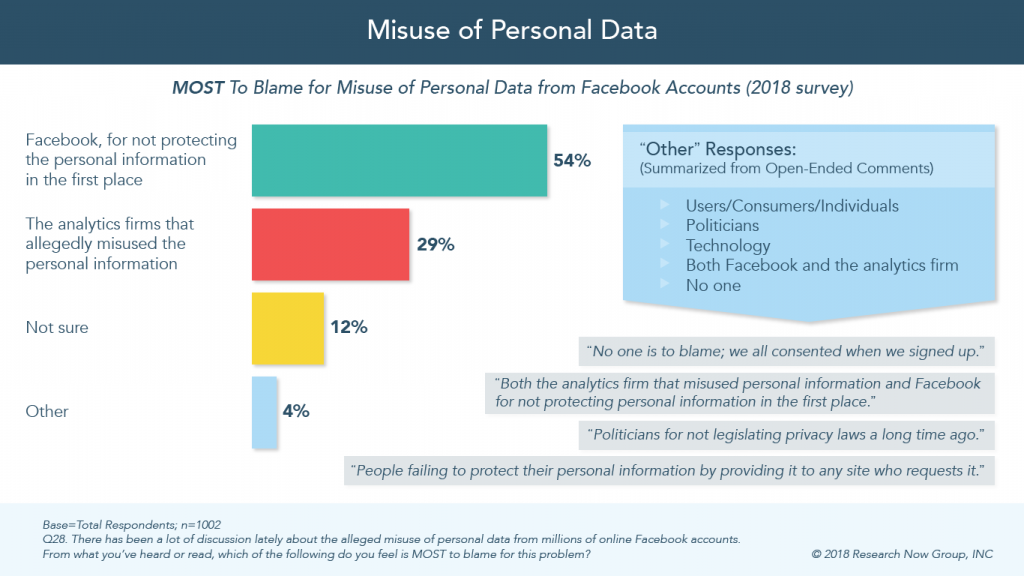 Respondents in the Northeast are most likely (61 percent) to blame Facebook, while those in the South are least likely (50 percent) to do so. But for the most part, responses to this question are quite consistent, with only minor variances by gender, age, and educational level.
What does all this mean for Facebook? The most popular social media network in the world is responsible for the personal data of about 1.8 billion active users. While the company has faced fierce criticism over its handling of privacy issues, it is too early to tell whether this issue will lead to a significant loss of business.
Still, there's no question that Facebook is looking at a significant problem right now—both in terms of public opinion and the political climate in Washington. What's not clear is whether those problems will persist in the long term. Will the #deleteFacebook movement really catch fire? Check back in a year.
---
Copyright © 2018 MindEdge, Inc.